In their latest paper, Binance Reseach has proposed that bitcoin's (BTC) dominion over the cryptocurrency market may soon subside. According to the report, BTC dominance will potentially retrace to the "50-60% range."
Researchers highlighted the recent 70% milestone that Bitcoin reached this week, a percentage which marks 29-month high. The last time Bitcoin dominance was at these levels was back in March 2017, when one BTC fetched a relatively modest price of roughly $1000.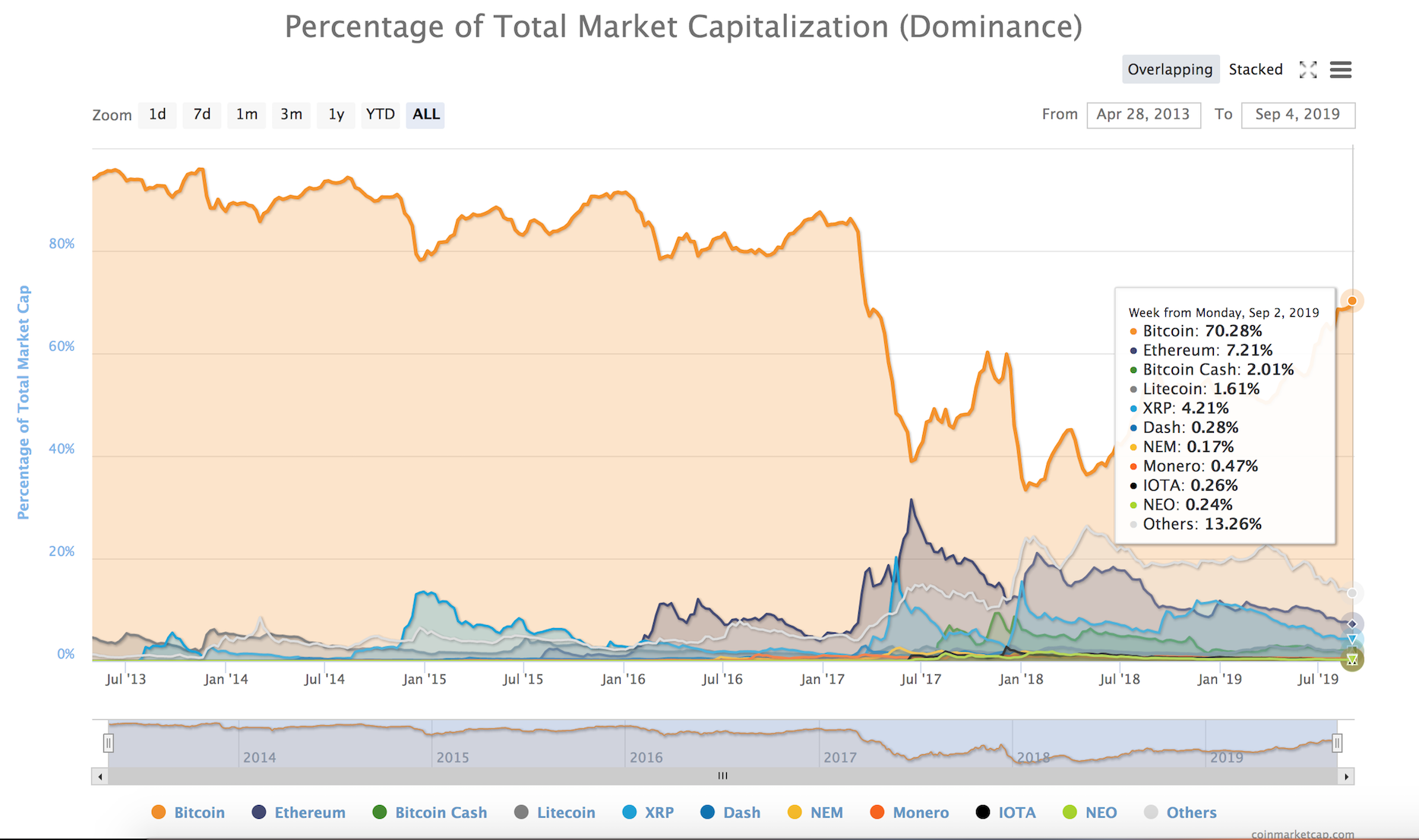 Bitcoin dominance at 70.28% | Source: CoinMarketCap
It seems, however, that bitcoin's days at the top may soon come to an end. Reiterating their stance, Binance suggested that BTC dominance will eventually head back down to 50 or 60%, due to the fact that bitcoin has shown stability within this range:
BTC dominance will go back down to the 50-60% range. We still believe in this, partly because BTC dominance was below 60% for an extended period, from May 2017 until June 2019.
When Altseason?
For months, during Bitcoin's supreme 180% rally this year, analysts, traders, and enthusiasts alike, have been speculating upon the phenomenon of altseason. The almost mythical altseason event typically coincides with a lull in Bitcoin dominance, which occurs when more people sell BTC. As a result, If traders are indeed exchanging their bitcoin for altcoins, an altseason could be observed.
However, dreams of an altcoin reprisal have mostly died out, thanks to the steady rise in BTC dominance.
Prominent bitcoin bull, Max Keiser, is among some of the naysayers who not only believe that altseason will never happen again, but also that altcoins, in their entirety, will cease to exist. Keiser recently took to Twitter to share his rather dismal outlook for alts:
Alts never coming back… Sorry. pic.twitter.com/QNAn8g0ae4

— Max Keiser, tweet poet. (@maxkeiser) September 2, 2019
Veteran trader Peter Brandt also believes that altcoins have had their time, going as far as to analogize alts as the lead to bitcoin's gold:
When will altcoin junkies understand that $BTC is the crypto with real and lasting value. Altcoins are to Bitcoin what lead is to Gold @KimDotcom pic.twitter.com/ezePnyeSxg

— Peter Brandt (@PeterLBrandt) September 2, 2019
In response to the argument that newcomers to the space would prop up the altcoins market, Brandt retorted that 99% of cryptocurrencies would be "forgotten five years from now."
Regardless, Binance researchers still hold out hope for alts, noting that they may be necessary for mass adoption of the industry:
BTC price increases help overall crypto adoption, and altcoin performances remain mostly dependent on projects themselves. For the whole crypto industry to develop, though, we feel that altcoins must be an integral part of the maturation process.