On Monday (September 7), the day that Peter Schiff's son decided to increase his BTC holdings, Bitcoin has managed to stay above the psychologically important $10,000 level (except for one 65-minute interval).
All market data used in this article was taken from CryptoCompare around 20:30 UTC on 7 September 2020.
To give you a rough idea of how well the crypto market is doing today, only one of the top twenty cryptoassets (by market cap)—Bitcoin SV (BSV)—is currently in the green (i.e. up against USD).
BSV is currently trading around $175.58, up almost 7% vs USD in the past 24-hour period:
At the time of writing (20:37 UTC on September 7), the estimated total crypto market cap stands at $329.81 billion, down 2% in the past 24-hour period.
The Crypto Fear & Greed Index, which is based on an analysis of "emotions and sentiments from different sources", is currently telling us that we are in "Fear" category: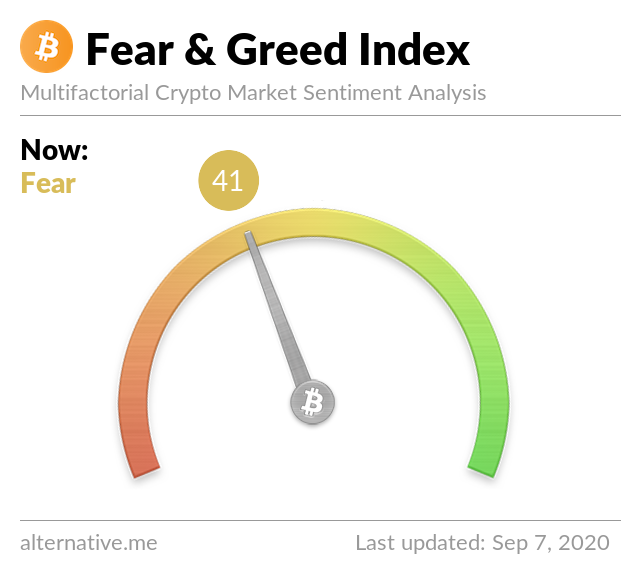 As for Bitcoin, BTC-USD is currently trading around $10,147, down 0.92% in the past 24-hour period.
As you can see, between 12:15 UTC (on September 7) and 13:20 UTC (on September 7), Bitcoin was trading below the $10K level. However, the rest of the time, it has managed to stay above the $10K level.
In case you are wondering where Bitcoin is headed next, as any honest analyst would tell you, it is impossible to know for sure, but it is worth keeping in mind that the U.S. stock market was closed today because of the Labor Day holiday. If U.S. equities have any really bad days this week, Bitcoin's moderately positive correlation with the S&P 500 during times of stress is likely to return.
In the year-to-date period, Bitcoin is up 41.26% vs USD. In contrast, the S&P 500 index has only gone up 6.06% in the year-to-date (YTD) period.
According to data from Blockchain.com, Bitcoin's hash rate reached 151.762 EH/sec today.
Yesterday (September 6), Su Zhu, Co-Founder, CEO, and CIO of Singapore-based crypto hedge fund Three Arrows Capital, said that he considered the strength being shown by Bitcoin around the $10K level bullish:
Meanwhile, pseudo-anonymous analyst and trader PlanB has found a novel way to describe Bitcoin:
Interestingly, earlier today, famous gold bug Peter Schiff, who is one of Bitcoins harshest critics, said that his 18-year-old son Spencer (@SchiffSpencer)—who is a fan of Bitcoin due to his Libertarian views and his interest in Austrian economics—had just bought more Bitcoin.
In the same tweet, he is conducting a Twitter poll to see whose investment advice the community trusts more, him or his son. With 42,260 votes cast so far, his son is ahead 81.2% to 18.8%:
Featured Image by "WorldSpectrum" via Pixabay.com
The views and opinions expressed by the author are for informational purposes only and do not constitute financial, investment, or other advice.