On Tuesday (September 29), as both traditional financial markets and crypto markets wait for today's U.S. presidential debate between President Donald Trump and Democratic nominee Joe Biden, Bitcoin is trading sideways.
This first of three debates between Trump and Biden will be held at Case Western Reserve University in Cleveland, Ohio, and is set to start at 21:00 ET on September 29 (or 01:00 UTC on September 30).
The debate topics are "The Trump and Biden Records," "The Supreme Court," "Covid-19," "The Economy," "Race and Violence in our Cities" and "The Integrity of the Election."
As of 07:22 ET (or 11:22 UTC) on September 29, U.S. stock futures are most unchanged since yesterday, when the Dow, the S&P 500, and Nasdaq Composite advanced 1.5%, 1.6%, and 1.9% respectively. 
Yesterday, House Speaker Nancy Pelosi unveiled a $2.2 trillion COVID-19 stimulus package
Pelosi said:
"This $2.2 trillion Heroes Act provides the absolutely needed resources to protect lives, livelihoods and the life of our democracy over the coming months. It includes new funding needed to avert catastrophe for schools, small businesses, restaurants, performance spaces, airline workers and others."
However, it seems unlikely at this point that the Trump administration and Senate Republicans would be willing to approve this package since the amount of relief it provides is almost a trillion dollars higher than the $1.3 trillion that President Trump is happy with.
As for commodities, and more specifically precious metals, spot gold is currently (as of 11:30 UTC on September 29) trading around $1,888 an ounce, up 0.34%.
With regard to cryptoassets, the total crypto market cap is around $353.01 billion, up 0.7% today.
The Crypto Fear & Greed Index, which is based on an analysis of "emotions and sentiments from different sources", is currently telling us that we are in "Fear" category: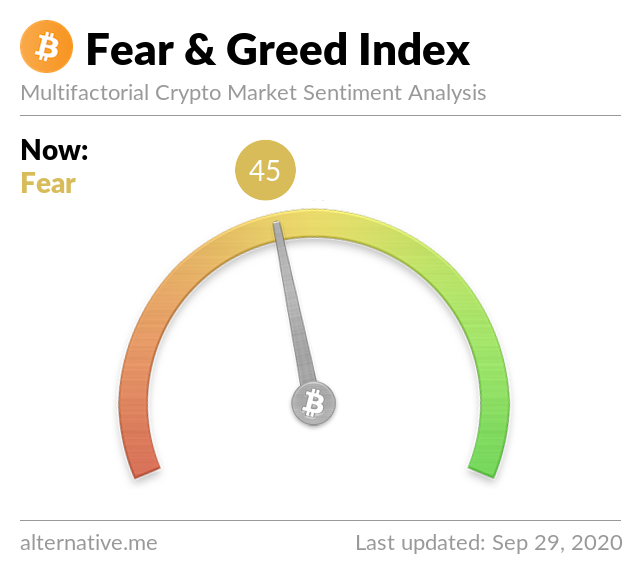 According to data from CryptoCompare, in the past two-week period, Bitcoin has been trading in the $10,150–$11,150 range. Currently (as of 11:40 UTC on September 29), BTC-USD is trading around $0,770, down 1.05% in the past 24-hour period.
Featured Image by "SnapLaunch" via Pixabay.com
The views and opinions expressed by the author are for informational purposes only and do not constitute financial, investment, or other advice.