This article provides an update (as of 21:25 UTC on August 29) on the cryptoasset market, with a particular focus on the following digital assets: Bitcoin (BTC) and yearn.finance (YFI).
To give you a rough idea of how well the crypto market is doing today, 41 of the top 50 cryptoassets (by market cap) are currently in the green (i.e. up against USD). Of these, the biggest percentage loser is UMA, which currently is the 34th most valuable cryptoasset, which is trading around $11.52, down 6.56% vs USD in the past 24-hour period.
According to data from TradingView, during the past 24-hour period, the total crypto market cap has increased by 0.71, and as of 21:27 UTC on August 29, it stands at $349.40 billion.
The Crypto Fear & Greed Index, which is based on an analysis of "emotions and sentiments from different sources", is currently telling us that we are in "Extreme Greed" category: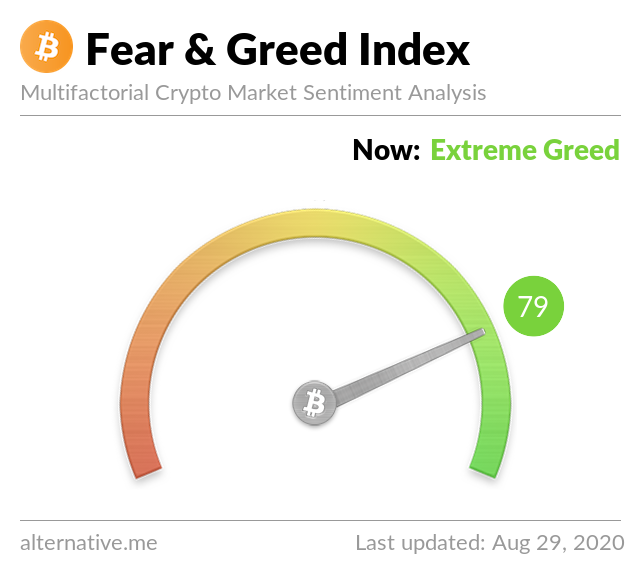 All market data used in the remainder of this article was taken from CryptoCompare around 21:35 UTC on 29 August 2020.
Bitcoin (BTC)
Bitcoin is currently trading around $11,527, up 0.30% vs USD in the past 24-hour period:
In the year-to-date (YTD) period, Bitcoin is up 60.47% vs USD.
According to data from Blockchain.com, Bitcoin's seven-day average hash rate reached 122.018 EH/sec on Friday (August 28); the average total hash rate reached its all-time high (ATH) of 128.705 EH/sec on August 17.
Yearn.Finance (YFI)
YFI, the governance token for decentralized finance (DeFi) platform yearn.finance, is currently trading $25,098, which means that it is up 38.49% vs USD in the past 24-hour period:
Since July 18, when YFI was trading around $34.53, YFI is up over 72,584% vs USD.
Yearn.finance, which was formerly known as iearn.finance, is a hobby project by developer Andre Cronje. It was "semi-launched" in February 2020 as a yield aggregator for DeFi lending platforms to help people find out where to get the highest yield (APR) for lending their crypto.
Then, on July 17, Cronje announced that, over the preceding few months, his team had released several products under the "yearn.finance" umbrella. Even more interestingly, in this blog post, Cronje announced the release of governance token YFI, which he called "a completely valueless 0 supply token."
On August 10, crypto exchange Binance listed YFI and opened trading for the following pairs: YFI/BNB, YFI/BTC, YFI/BUSD, and YFI/USDT.
In case you are wondering just high YFI (which raced, earlier today, past Bitcoin's all-time high of almost $20K, which was set back in December 2917) could go, angel investor Qiao Wang, a former Director of Products at Messari, says that one day in the future one YFI token could reach the same value as one "class A" share of Berkshire Hathaway (BRK.A), which closed on Friday at $327,431.00:
Featured Image by "WorldSpectrum" via Pixabay.com
The views and opinions expressed by the author are for informational purposes only and do not constitute financial, investment, or other advice.