A seemingly popular gambling game on the Ethereum network known as FairWin has had its wallets emptied just days after allegations of Ponzi-like behavior.
Data gathered from Etherscan currently relays that the smart contract wallet holds no ether whatsoever, despite reaching a peak balance of 49,518 ETH last week.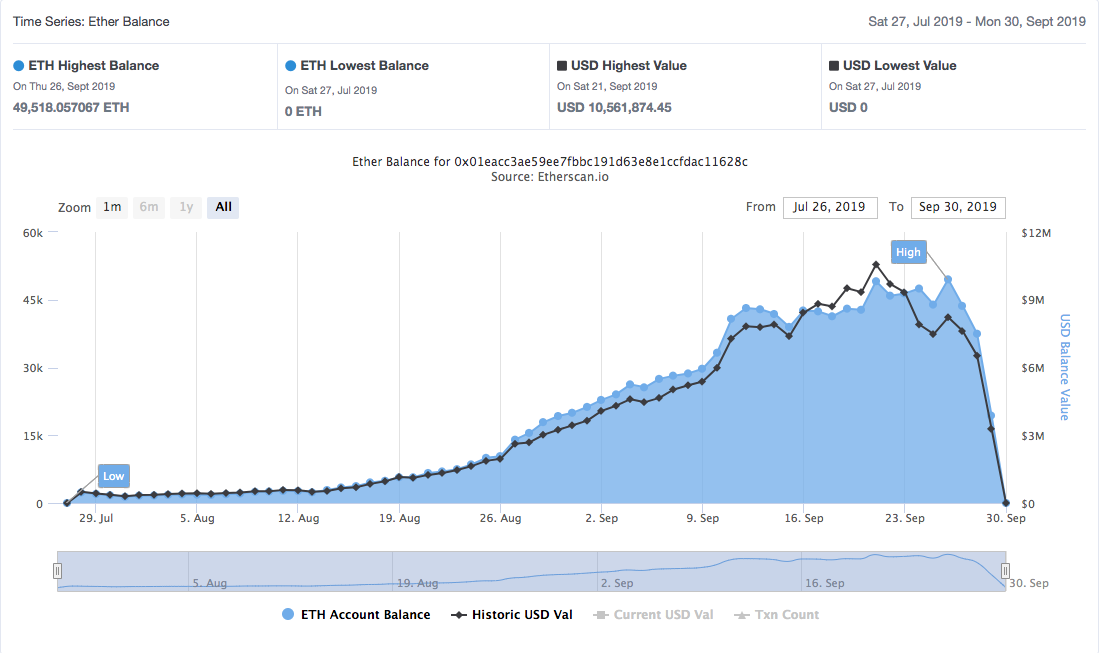 Delving deeper into the transaction data over the past few days, reveals several ETH withdrawals to various addresses – indicating either an exit scam by FairWin administrators, or a horde of users withdrawing funds. 
Critical Vulnerabilities 
Last week, several analysts highlighted FairWin as problematic. The gambling game stood out among the crowd thanks to its inefficient use of the Ethereum network. According to ETH Developer Lefteris Karapetas, FairWin was the top gas-consuming contract on Ethereum, contributing to a significant uplift in transaction fees upon the network.
Karapetas pointed out some red flags on the FairWin webpage, including the blatant, and almost laughable use of stock photos:
Also their team seems totally legit.

All (?) of them stock photos.https://t.co/Kp8ZGoFxC8

How the heck is this thing consuming so much gas? pic.twitter.com/uMYd123g6i

— Lefteris Karapetsas (@LefterisJP) September 19, 2019
Karapetas wasn't the only one concerned with FairWin; another blockchain developer named Philippe Castonguay undertook a more thorough examination of the Ponzi. Castonguay revealed some "critical vulnerabilities," within FairWin's smart contract, warning users to withdraw funds, and advising others to stay as far away as possible.
The https://t.co/1HHnXNCWsL Ponzi Scheme contains critical vulnerabilities that put all funds at risk.

Spread knowledge (especially in Asia) 🙏 Users need to withdraw their funds and stop interacting with the contract ASAP.

Details on the exploits will be published soon.

— Philippe Castonguay (@PhABCD) September 27, 2019
At the time of Castonguay's caution, FairWin had amassed over $10 million in ETH; little over two days later, it was all gone.
Redditors also got involved in the sleuthing. One user drew attention to the fact that 42% of the gas used within the Ethereum network was emanating from "spam transactions" from just 6 ETH wallets – all of which were headed to the FairWin contract address. Another Redditor called the gambling game out for what it truly was :
It's the fastest growing ponzi on the ethereum network. Mostly shared in chinese social media and blogs …
Ethereum Congested 
Interestingly, FairWin may have unintendedly ushered Ethereum's recent network capacity increase.
Within the past year, the Ethereum network has been almost wholly clogged due to an exponential increase in network traffic. It's thought one of the leading causes of congestion was FairWin, which, over the past 30 days, has amounted $1.57 million in network fees. Tether was also held responsible with stablecoin's transference from the Omni protocol over to an ERC-20 contract causing enormous stress upon the Ethereum network.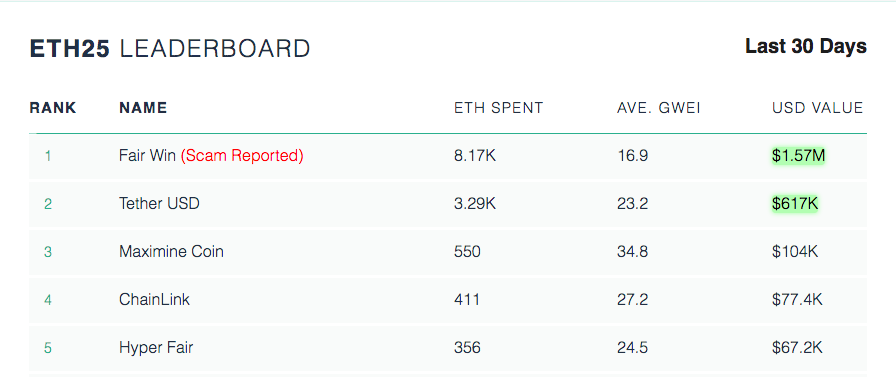 Regardless, it seems as if another crypto Ponzi scheme has come and gone. All we can hope for now is that users managed to get their funds out in time. 
Featured Image Credit: Photo via Pixabay.com